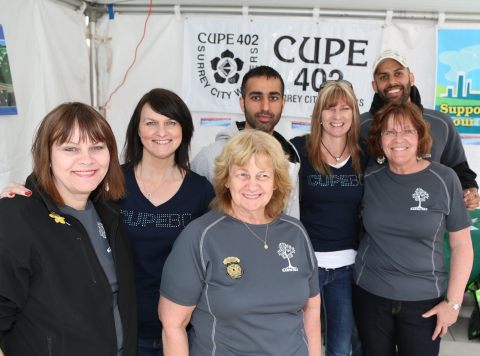 CUPE 402 members, who work for the City of Surrey in British Columbia, have won the 2014 Earth Day Greenest Workplace contest for their activism promoting sustainability in their community.
CUPE 402 Environment Committee members were front and centre at an April 22 Earth Day event in Surrey. Each year, the City of Surrey hosts "Party for the Planet", a free, community event to celebrate the environment and share ideas on sustainable practices. CUPE 402 set up as a community exhibitor for Party for the Planet, which included a farmer's alley where visitors could learn more about how food reaches our tables and the "Sustainability Way House" that showed off greener household practices.
CUPE 402 members were joined by CUPE 728 workers from the Surrey school district support staff. CUPE 402 member Aman Cheema volunteered his time for the day as an act of reaching out to his community to "put a face to the local and show people the union cares about the environment."
Cheema and other members handed out water conservation devices, reusable bags and environmental publications from CUPE, including copies of Working Harmoniously on the Earth (CUPE's National Environment policy) to community members who wanted to learn more about what the union is doing to fight climate change, promote water conservation and renewable energy. The event drew thousands of visitors and helped show Surrey residents CUPE's green side.
CUPE launched a new Earth Day contest for 2014 that celebrates CUPE locals' commitment to environmental activism.