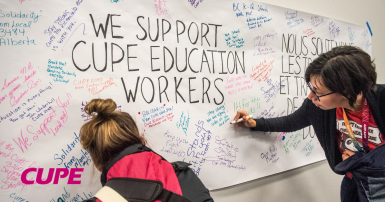 CUPE, which represents 7,000 education support staff across Saskatchewan, stands in full support of the teachers who voted in support of job sanctions following the Sask. Party government's refusal to negotiate a fair deal at the bargaining table.
"CUPE Saskatchewan stands in solidarity with the members of the Saskatchewan Teachers' Federation," said Judy Henley, president of CUPE Saskatchewan. "Scott Moe and the Sask. Party have underfunded and made devastating cuts to education – and teachers, along with education support staff, have directly felt the impacts. Instead of negotiating to solve some of these issues at the bargaining table, the Sask. Party has instead refused to negotiate and has shown disrespect towards teachers through misleading billboards. Today's vote in favour of job sanctions makes it clear – it's time for the Sask. Party to get back to the bargaining table and negotiate a fair agreement with teachers."
As a result of the vote in favour of job sanctions, CUPE is asking its members to not take on any additional duties that are currently done by teachers. This includes before and after school supervision as well as recess supervision.
"Education support workers understand that taking on additional duties will weaken any job actions taken by teachers," said Omar Murray, chair of the CUPE Saskatchewan Education Workers' Steering Committee. "Teachers need to know that education workers are standing with them, we are stronger when we are together."