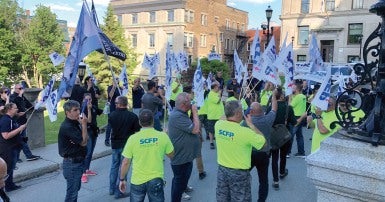 Sébastien Goulet and Dominique LaHaye
The contracting out of one half of Société de transport de Sherbrooke (STS) bus routes is deeply concerning to CUPE, who has asked the municipality's auditor general (AG) to investigate a $26.7 million untendered contract awarded to Promenades de l'Estrie.
Last June, CUPE sent a letter to the AG while holding a day of action to mobilize against contracting out and the broader privatization of public services.
Dozens of bus drivers and other Sherbrooke CUPE members, supported by CUPE members working in the transit sector from Montreal, Trois-Rivières and Longeuil, took a range of actions to protest the situation. Most notably, they organized a "solidarity happy hour" to underscore member solidarity and marched to City Hall, where a delegation addressed Sherbrooke City Council.
CUPE pointed out that, in addition to exposing transit users to inconsistent service, the multi-million dollar contract raised serious concerns around ethics and sound management.
"Service has declined in quality with all the contracting out at STS," explained André Marsan, Vice-President of CUPE 3434, which represents Sherbrooke bus drivers. He explained that the subcontractor's vehicles are not well-adapted and -maintained, and do not operate effectively as a result. This "parallel" service is also operated by drivers with less training and oversight, and the subcontractor's minibuses and microbuses do not meet universal accessibility criteria.
"As a result, this parallel system makes for a two-tiered service. It's time for Sherbrooke to go back to being a bona fide transit company that delivers a high level of quality and efficiency," said Marsan.
Maintaining public services benefits Sherbrooke taxpayers, as seen by the city's move to bring waste and compost collection back in-house in 2012, which generated savings of nearly $1 million per year.
A ranking of municipalities in 2016-2017 showed that Sherbrooke's garbage collection expenses were among the lowest of similar-sized cities.
"That was a huge success - however, the same study also showed that Sherbrooke spent the most on recycling collection, which is currently outsourced," indicated Benoît Labonville, President of CUPE 2729, which represents blue-collar workers in Sherbrooke.