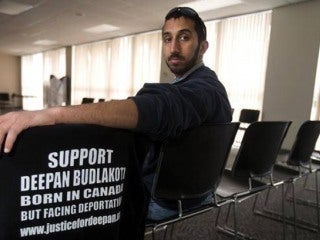 ​Deepan Budlakoti is an Ottawa born man who is facing deportation to India, a country where he has never lived, has no family and where he is not a citizen.
"We are shocked that the Government of Canada has rendered this young man stateless and has stripped him of his right to work, access services and live with dignity and security," said CUPE National President Paul Moist.
Budlakoti's citizenship was revoked after he got in trouble with the law as a young person. By revoking his citizenship the Canadian government unjustly punished him twice for crimes for which he has already completed a sentence.
Canada ratified the 1961 Convention on the Reduction of Statelessness which obliges governments to act in a manner that avoids, rather than increases statelessness. Amnesty International has raised clear concern that "Canada's position of refusing to recognize Mr. Budlakoti's Canadian citizenship runs counter to the country's international human rights obligations with respect to statelessness and leads to other related human rights violations."
Two-tier citizenship rights in this country could lead to increased criminalization of racialized communities, and could undermine our ability to organize for causes and take political action without fear of being stripped of our rights. "CUPE is deeply concerned that the Canadian government believes that Canadian citizenship is something other than a right for those who possess it, and that it can be selectively used as a tool to punish and intimidate certain members of our society," said Moist.
Visit Justicefordeepan.org
Deepan Budlakoti faces deportation to India, where he has never lived.