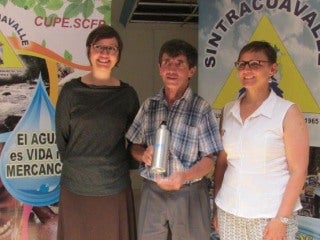 Bogota, Colombia – Lisa Worobec, member of CUPE 2669 (Saskatoon Public Library) and co-chair of CUPE's Young Workers Committee, and Cheryl Stadnichuk, CUPE Researcher, are representing CUPE National on a Frontlines delegation in Colombia from July 7-19, 2015.    
The Frontlines Initiative is a joint project of four national public sector unions - the Canadian Union of Postal Workers (CUPW), the Public Service Alliance of Canada (PSAC), the Canadian Union of Public Employees (CUPE) and the National Union of Public and General Employees (NUPGE) - which joins forces with sister unions in Colombia to fight against the privatization of public services and to strengthen each other's struggles to defend human and labour rights.
The delegation in Colombia received an important briefing on the Trade in Services Agreement (TISA), a proposed international trade treaty that, if ratified, will put public services in Colombia, Canada and 48 other countries at extreme risk.
Secret negotiations for a new trade agreement on public services began in 2012 and have gone through 12 rounds among 50 participating countries, including Canada, the United States and the European Union. The public services under negotiation include education, health, water, energy, social services, financial services, transportation and telecommunications. The agreement would open up public services to privatization, prevent any privatized public services from being returned to the public sector and ensure that all future public services be covered by the agreement.
Juan Diego Gomez, Public Services International (PSI) Coordinator for the Andean region, told the Canadian delegation of public sector unionists that TISA negotiations are accelerating rapidly and that trade unions and civil society from around the world must unite to defeat this multilateral trade agreement, just as they buried the Free Trade Agreement of the Americas in 2005.
The secrecy of the negotiations is an affront to democracy, Gomez explained. No official documents have been released publicly and the intent of TISA has not been discussed by any of the Parliaments or civil society organizations of the participating countries. Unions and other organizations have learned about the scope of TISA through leaked documents and interviews with negotiators.
Worobec said she was shocked by the range of countries involved and the scope of TISA. "Libraries in Canada are already outsourcing work, which could be expanded under TISA," she said. "TISA will destroy public sector jobs and create more precarious work."
Worobec and other Frontlines delegates were impressed by the strategies and organization of Colombian unions and civil society organizations. Two members of a coalition against TISA spoke of their efforts to organize workshops across the country to educate people about the dangers of TISA and build opposition to the agreement.
For more information, see the PSI Special Report: The Really Good Friends of Transnational Corporations Agreement.