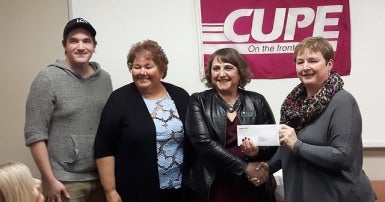 The Canadian Union of Public Employees handed cheques totaling over $200,000 to four local organizations helping local residents rebuild their lives after the wildfires swept through Fort McMurray last May.
CUPE Alberta President Marle Roberts said the money was collected from locals across the country. With over 600,000 members, CUPE is the largest union in Canada.
"We put the call out and CUPE Locals and their members delivered," said Roberts. "CUPE is about helping each other, and there is no better time to put that to the test than after a natural disaster like the wildfires."
The funds were divided equally between four local organizations, Stepping Stone Youth Home, Pastew Place Detoxification Centre, Unity House and the Wood Buffalo Food Bank.  The funds will go towards local programming in each of those organizations.
"Alberta is strong and Albertans are strong," said Roberts. "We're already seeing the community rebound, and CUPE will do what we can to help with that recovery."
To view more photos from the Support for Fort McMurray event, please click here.