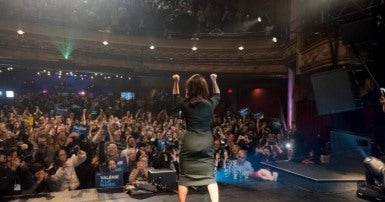 Valérie Plante made history last night by being elected Montréal's first woman mayor.
CUPE, the largest union representing employees of the City of Montréal, welcomes this decisive victory of Ms. Plante and the Projet Montréal team. Overcoming incumbent Denis Coderre by capturing 51.4% of the vote versus his 45.6%, she becomes the city's 45th mayor.
"This change in government can only be positive for Montréal," stated CUPE-Québec president Denis Bolduc. "We congratulate Valérie Plante and the entire Project Montréal team. We look forward to getting down to work with the new administration, one that we trust will be more attentive and respectful toward the city's workers. We have every hope this will be the case!"
In addition to becoming Montréal's first female mayor, Ms. Plante becomes the only woman to currently lead a major Canadian city.
"Hopefully this win will inspire more women to step forward to claim their rightful roles at all levels of our political organizations," added Mr. Bolduc.
The election victory was total for Projet Montréal, which also won a majority of the seats on the city council.
CUPE represents the white and blue collar workers of the City of Montréal.