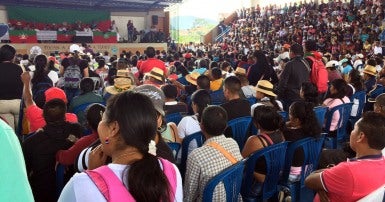 In the wake of the murder of four Indigenous guards and an elected leader in Tacueyo, Colombia, CUPE is calling for action from the Canadian and Colombian governments.
CUPE National President Mark Hancock is in Colombia right now as part of a delegation expressing CUPE's solidarity with communities facing escalating violence. Our delegation met with representatives of the Association of Indigenous Communities in the North of Cauca (ACIN) on October 30, and attended a gathering of Indigenous communities in Tacueyo.
We stand with these grieving communities and support their calls for peace and prosperity.
Indigenous guards are unarmed protectors of the land. This massacre is a shocking example of the ongoing violence against people defending land and human rights in Colombia.
A historic peace agreement signed in 2016 hasn't stopped the violence. The Colombian government has been accused of undermining the peace accord in various ways, with Indigenous and Afro-Colombian communities hardest hit.
At least 700 social movement leaders and 142 demobilized insurgents have been murdered since the accord, and another 260,000 Colombians were forced to flee their homes. Colombia has the world's highest number of internally displaced persons – people who have fled their homes but remain in the country.
CUPE has sent an urgent letter to Prime Minister Justin Trudeau. Canada is party to a trade and investment deal with Colombia and has a responsibility to ensure Canadian interests in Colombia aren't contributing to the political, economic and social inequalities that are root causes of the violence.
Our letter calls on the Canadian government to condemn the massacre, and to press the Colombian government to support initiatives that build peace, live up to its human rights obligations and uphold the peace agreement.
CUPE has also written to Colombian President Ivan Duque, calling on his government to respect the rights of Indigenous communities and work with them to ensure the protection of their people and their territories. Our letter also requests that the government live up to the terms of the peace agreement, and calls for a full investigation into violence against Indigenous communities that brings those responsible to justice.
Photo : Cxhab Wala Kiwe - ACIN