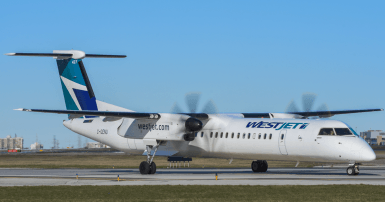 The Canadian Union of Public Employees (CUPE) has been certified by the Canada Industrial Relations Board (CIRB) to represent approximately 600 flight attendants at WestJet Encore. With the majority of Encore flight attendants having signed cards in support of unionization, CUPE filed an application for certification on April 11.
"On behalf of all 680,000 CUPE members across Canada, it's an honour to welcome WestJet Encore flight attendants into our CUPE family," said CUPE National President Mark Hancock. "CUPE is Canada's flight attendant union, and we couldn't be more excited to get to work building their union and bargaining a strong contract to make their jobs and lives better."
CUPE has been working with WestJetters for the past year to deliver strong union representation for WestJet Mainline flight attendants and the changes we have seen for these workers are dramatic.
CUPE unionized flight attendants at WestJet's mainline carrier in July 2018. With the addition of Encore, CUPE now represents nearly 4,000 WestJet flight attendants, and over 15,000 flight attendants nationwide. This increases CUPE's ability to address industry-wide issues facing all of Canada's flight attendants.
CUPE's efforts to unionize flight attendants at WestJet's low-cost carrier, Swoop, are ongoing.
Photo credit: Martin Kulcsar This work is licensed under a Creative Commons Attribution-Share Alike 4.0 International License.