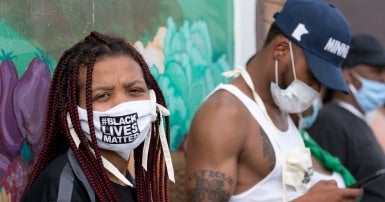 As more disturbing images and video footage of racism, white supremacy and violence emerge from the United States and Canada, the Canadian Union of Public Employees (CUPE) wants to offer our solidarity to the Black community and our racialized membership. We acknowledge and respect your rage, fear, pain and the trauma these images and real-life experiences invoke. We share your grief and outrage.
CUPE condemns these hateful acts and those who promote violence and racism. On May 26, 2020, George Floyd, an unarmed black man, was killed by Minneapolis police. This is yet another heartbreaking example of systemic racism and police brutality. That same day, we saw video footage of a white woman who weaponized anti-black racism and exerted her power and white privilege over an innocent black man in New York's Central Park.
The subsequent violent crackdown on the black community and allies calling for justice and carrying signs reading "Black Lives Matters", "Justice for George Floyd" and "Justice for Breonna Taylor" is beyond comprehension, but not surprising.
CUPE has recently reported that marginalized workers are already at greater risk of experiencing workplace violence and harassment, and research shows that violence and harassment spikes during times of crisis. There are increasing racist attacks and violence against Asian communities, since the COVID-19 crisis. Black, racialized and Indigenous communities, already at risk for oversurveillance, are at even greater risk as governments increase policing, hate groups incite violence, and everyday microaggressions and racial profiling intensify. (https://cupe.ca/covid-19-hits-equity-seeking-workers-hardest)
We must challenge and not be silent in the face of police brutality, white supremacy, and all forms of racist violence in the workplace and in our society. CUPE will remain vigilant in our efforts to ensure diversity and inclusiveness and to fight racism and hate in all its forms.
Photo credit:  Lorie Shaull.  This work is licensed under a Creative Commons Attribution-ShareAlike 2.0 Generic License.