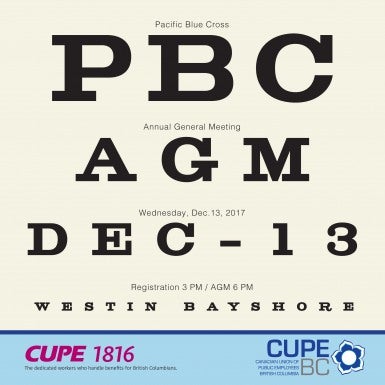 CUPE BC and CUPE1816 (Pacific Blue Cross employees) are launching a campaign to elect new progressive board members at benefits provider Pacific Blue Cross following a protracted labour dispute triggered by demands for concessions, CUPE BC President Paul Faoro said today.
"Bad employers need to be held accountable wherever they emerge, particularly when they demand concessions from working people while purporting to be a progressive company," said Faoro. "Members of CUPE Local 1816 are looking forward to holding the PBC board accountable for supporting management's contract demands that led to a two-month long lock-out of their employees.
"The board's support for this anti-worker strategy inconvenienced countless plan members and put 600 workers on the street for two months," he added. "That's why CUPE members and their supporters will be showing up in strong numbers to PBC's annual general meeting on December 13."
Pacific Blue Cross (PBC) has re-scheduled its annual general meeting for 6 pm on Wednesday, December 13, at the Westin Bayshore in Vancouver. (The originally scheduled AGM was cancelled by PBC during the lock-out.)
CUPE Local 1816 President Beth Miller said that Pacific Blue Cross had cancelled the September 7 meeting only one day after it received a special resolution calling for the removal of seven directors from the board.
"It's high time to elect a progressive board that acts in the interests of plan holders and respects PBC workers," she said.
The labour disruption was the first time that Pacific Blue Cross failed to reach an agreement with its workers. Pacific Blue Cross CEO Jan Grude has been widely criticized for his confrontational approach and demands for concessions that led to the lock-out.
Visit CUPE BC's events page here to RSVP.