Daniel Gawthrop | CUPE Communications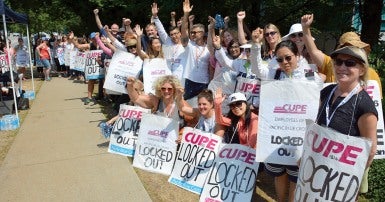 An already heated dispute between CUPE 1816 and the benefits provider Pacific Blue Cross (PBC) in British Columbia turned bitter during the month of June. 
PBC management informed CUPE that it would henceforth deny paid leave to sick and disabled employees, refuse family emergency leave, and cancel vacation leave. It would also refuse to collect and remit union dues. Three days later a mass rally to support CUPE 1816, held outside PBC's main office in Burnaby, drew several hundred participants and the support of the BC labour movement.
Immediately after the rally, the employer advised CUPE 1816 that it would lock out any members who engaged in further job action until the week following that job action. CUPE 1816 has filed an unfair labour practice complaint with the BC Labour Relations Board.