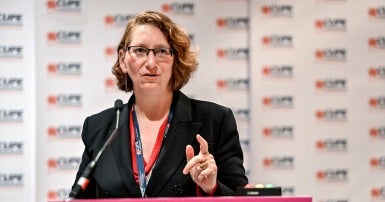 On this International Day of Persons with Disabilities, CUPE recognizes the work of Sheryl Burns, President of CUPE 1936 and this year's winner of the Carol McGregor CLC Disability Rights Award. A determined feminist and a lifelong proponent for disability rights, Sheryl has brought her lived experience of a woman with a hearing disability to a multitude of spaces throughout her career.
"Sheryl has displayed incredible strength and courage in overcoming ableist barriers to bring about significant change. She has not only educated others about the challenges experienced by persons with disabilities, but she has also celebrated their gains, including better working conditions and successful accommodations," said CUPE's National President Mark Hancock.
A CUPE member since 2005, Sheryl worked in Vancouver's women's shelters, supporting abused women, including women with disabilities. Today, as President of CUPE 1936, she represents social service workers in British Columbia's Lower Mainland.
She provides fierce advocacy to ensure the duty to accommodate is enforced for CUPE members who are permanently or temporarily disabled, calling attention to mental health disabilities as well. She plays many roles in the union and in the community to advocate for disability rights, including as the persons with disabilities representative on the BC Federation of Labour Executive Board and on the CUPE National Women's Committee.
"I would like to acknowledge my parents for supporting me as a child with a disability and for their ongoing support of my disability rights activism," said Sheryl Burns. "This award demonstrates the continued need to highlight the challenges of people with disabilities, in the workplace and within society in general."
The New Westminster & District Labour Council is proud to have supported Sheryl's nomination. "We have directly benefited from Sheryl's expertise and leadership. It is because of amazing activists like Sheryl giving time, energy, compassion and knowledge that we continue to grow and build inclusive, accessible workplaces and communities," said Janet Andrews, Secretary-Treasurer of the New Westminster & District Labour Council.
CUPE's National Secretary-Treasurer Candace Rennick also congratulated Sheryl on her award. "Sheryl's achievements in advancing disability rights are an inspiration to all of us and make her an outstanding leader in Canada's labour movement. Congratulations, Sheryl, for this well-deserved honour!" she said.