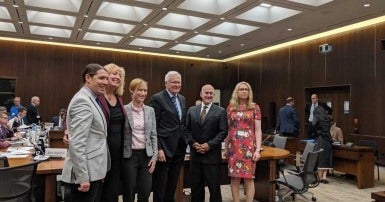 This Tuesday, CUPE testified to the House of Commons Standing Committee on Health about the critical issue of violence faced by workers in the health care sector.
The purpose of the committee is to help develop recommendations to the federal government so it can, in partnership with the provinces and territories, improve violence prevention in the health care system (especially in hospitals, long-term care facilities, and home care).
Many studies confirm what CUPE workers have been experiencing for too long. Workplace violence is a serious everyday health and safety issue for workers in health care. Some indicators are even showing the situation is worsening. As if it wasn't bad enough, violence against health care workers often goes unreported; that means the situation is likely worse than what the official numbers indicate. And since the majority of health care workers are women, that means the risk of violence and harassment is much higher for them.
"Violence doesn't 'just happen.' It's not 'part of the job.' Rather, it's a workplace hazard with specific causes. By better understanding the root causes of violence in health care settings, we can more effectively prevent violence and protect health care workers," the submission says.
"Health care workers take care of us when we are most vulnerable. In turn, employers and governments have a responsibility to take care of them. There are lots of opportunities to improve practices to reduce violence in health care and mitigate harm. (…) Funding and regulatory improvements will help change the culture to one where we no longer accept violence against health care workers."
"Workplace violence in health care is a serious, multi-faceted problem that affects workers, their colleagues, and patient care. Resolving the issues that lead to violence in the workplace may be difficult, but it's time for the federal government to actively engage with this national issue."
For a full list of CUPE's recommendations, please consult the submission. 
Listen to Jenna Brookfield, CUPE health and safety officer, who testified before the House of Commons Standing Committee on Health.