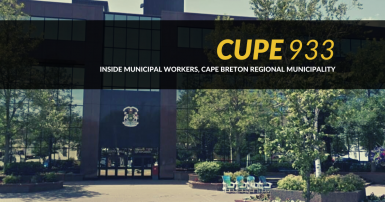 At a special meeting held yesterday, inside municipal workers with Cape Breton Regional Municipality, represented by CUPE 933, voted in favour of pressure tactics up to and including strike action.
The union represents approximately 140 members who work at Transit Cape Breton, 911 and 311 Regional Emergency Communication Centres, Police Services, the Civic Works Centre, the Engineering and Public Works Department, the Sydney lockup, CBRM Water Utility, the Solid Waste Management Department, and facilities such as the Centre 200 and County arenas.
The last collective agreement expired on October 31, 2021.
"We had the largest turnout of members at the meeting that we've seen in years. We hope this strike vote sends a clear message that CUPE 933 members are determined to get a fair deal and that they support their bargaining committee," says Daniel Colbourne, CUPE 933 president.
"We're very disappointed that, even with the assistance of a conciliation officer, we were unable to reach a deal," says CUPE National Representative Tammy Martin. "Some of the outstanding issues include wages, bereavement leave, and parental/adoption leave, and wage parity."
CUPE 933 says it is willing to go back to the table at any time to bargain a fair collective agreement.
"No one ever want to go on strike, but our members feel they have been left with no other option," says Colbourne. "Our members are now preparing for potential job action, while trying to remain hopeful that a fair deal can be reached soon."