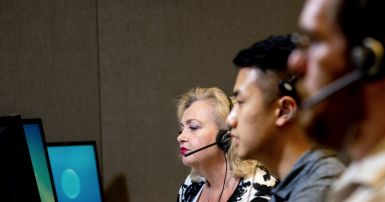 CUPE 8911 members have launched an ambitious public campaign to raise awareness about critical underfunding and staff shortages at E-Comm 9-1-1. The campaign exposes that recent long wait times and unanswered emergency calls—a top news story during the summer heat wave—are symptomatic of an understaffed and underfunded service.
 "When you call 9-1-1 in an emergency, every second can mean the difference between life and death" said CUPE 8911 President Donald Grant. "The current situation is creating a dangerous cycle, not just for our members but also for the public."
A recent report commissioned by E-Comm concluded that the company is hampered by an understaffed system and recommends that the current roster of 153 full-time call takers and other staff needs to increase by 125 to meet public demand.
CUPE 8911 is calling for both an immediate infusion of financial resources into E-Comm to right size the operations and a coordinated effort by municipalities to update the organization's funding formula to prevent future crises.
The cost shared campaign supported by CUPE National includes a full-colour resource document produced by CUPE research staff, a campaign web page containing a petition addressed to local officials, a video to be distributed via social media boosts, and, in later stages, transit advertising.
To learn about the campaign and offer support, please visit: www.ecpbc.ca/secondscount/.