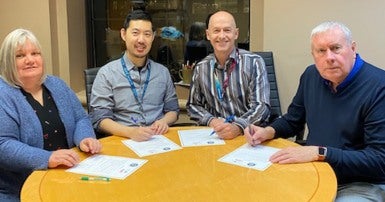 The leaders of CUPE 79 and the Ontario Council of Hospital Unions (OCHU/CUPE) signed a solidarity pact recently, committing the organizations and their members to support one another in bargaining.
"The members of both our unions are at the front-line of providing care for Toronto's residents.  We care deeply about the quality of health and social service delivery that Toronto's communities rely on and recognize that we must be unified against attempts to chip away at them," said David Mitchell, president of CUPE 79.
CUPE 79's 20,000 members are in bargaining now with the City of Toronto. OCHU has 42,000 members, over 10,000 of whom are in the Greater Toronto Area.
"Negotiations at the City of Toronto will have a large impact on the public sector bargaining climate. Hospital staff share with CUPE 79 the goals of pushing back concessions, addressing precarity of employment and achieving a real wage increase. Our local leaders and members will help in any way that we can," said OCHU president Michael Hurley.