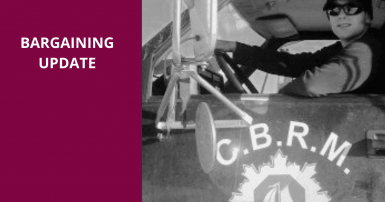 Upon the request of the union, a conciliation officer has been appointed by the Nova Scotia Department of Labour and Advanced Education to assist with negotiations between the members of CUPE 759 and their employer, Cape Breton Regional Municipality (CBRM).
CUPE National Representative Kathy MacLeod says, "Negotiations reached an impasse last week and we filed for conciliation on September 18th. At this time, no dates have been set for conciliation."
"We hope that the assistance of a conciliator will help to reach an agreement," said Kevin Ivey, president of CUPE 759, representing outside municipal workers. "It's not just a monetary issue. There are a number of outstanding issues that need to be addressed such as ensuring both parents have access to parental leave and improvements to grievance procedure language."
The union's collective agreement expired on October 31, 2020. The Canadian Union of Public Employees (CUPE) Local 759 represents approximately 330 members employed by CBRM who work in transit, public works, water and waste water management, parks and grounds maintenance, building and arena maintenance, as well as cleaning and janitorial services.