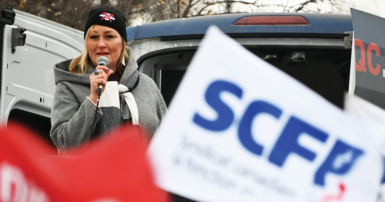 Members at the Société québécoise du cannabis (SQDC), who have been on strike for nine months now, demonstrated in front of the riding office of Quebec Premier Francois Legault in L'Assomption. Members demand that he encourage the employer to negotiate a fair deal and get back to the bargaining table so they can get back to work.
The members have received support from several unions and the new President of the FTQ, Magali Picard. "Nine months out in the street is enough! The SQDC must return to the bargaining table and submit a reasonable and acceptable offer. Workers should be proud of their employer and take pride in working for this Crown corporation—but, as things now stand, this is clearly not the case. The Premier has a duty to call the SQDC to order," says Ms. Picard.
The 300 employees represented by CUPE have been on strike since May 19, 2022. Their starting wages are just $17 an hour. More than 60% are casual and have few benefits.
Negotiations are at a standstill. Last December 6, the employer made an offer to the union, which it presented it to the membership at general meetings. 26 units participated in the vote where 94% voted against the offer. 17 units voted unanimous against it.
"If we want Quebec to be as well off as Ontario, the SQDC will have to provide decent wages. We're available to negotiate. We hope to go back to our jobs and achieve dignity in our work," says David Clément, President of CUPE 5454.
SQDC is a very profitable Crown corporation–last year, it contributed $200 million to the Quebec Government despite decreased sales.