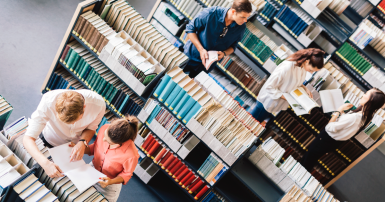 Nearly a decade after its last organizing drive for the same group, CUPE 4951 has finally welcomed Prince George Public Library (PGPL) workers to their local following an overwhelming certification vote in favour of joining the union, confirmed on April 7. The union's newest members were part of largest unorganized library system in B.C.
The 50 new members are librarians, library clerks, library techs and library assistants, as well as security, finance and IT staff.
CUPE 4951 President Lily Bachand said the local is happy to welcome these workers to the union after facing challenges during the last organizing drive in 2012.
"We are excited to have this group from the PGPL coming into the local and we value what they bring to the table," she said, noting that the new members join an existing group of CUPE library workers at the College of New Caledonia and at the Fort St. James Public Library.
Bachand praised CUPE Organizing and member organizers for their efforts on the ground. While CUPE 4951 Second Vice-President Leanne Yearley coordinated card gathering and information package handouts, the library workers themselves were key to the campaign's success.
"The group that really drove this effort was the organizing committee made up of six current library workers who talked to their co-workers and got the word out, which really helped the process along," said Bachand.
Including the newly-organized Prince George Public Library workers, CUPE 4951 now represents more than 400 members who also work at the College of New Caledonia's Prince George and five satellite campuses, the District of Fort St. James, and the Caledonia Early Care and Learning Centre.