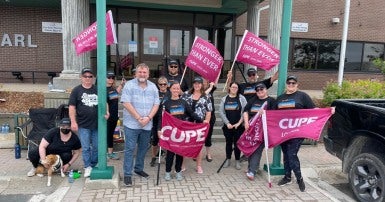 Members of the Canadian Union of Public Employees (CUPE) Local 2099 voted Tuesday evening in favour of ratifying a new collective agreement with the City of Mount Pearl, putting an end to an 11 week-long strike. The municipal workers will return to work Wednesday morning.
The collective agreement is effective retroactively from July 1, 2022, to June 30, 2026. The deal includes a modest wage increase, a signing bonus, and no concessions.
"Our members are looking forward to getting back to serving the community they love," says CUPE 2099 President Ken Turner, "and we'll be working with the employer to see that the agreed upon 'return to work' is implemented, ensuring a smooth transition back into the workplace."
"We believe this is a fair deal for our members, the city, and residents," says Turner, who thanked the bargaining committee for their hard work and praised members for their support and solidarity.
CUPE 2099 represents more than 200 municipal workers who work in recreation services, administration, taxation and finance, road maintenance, water and sewage, facilities maintenance, landscape maintenance, engineering, planning, and more.