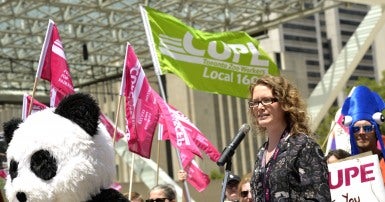 Negotiators for Local 1600 of the Canadian Union of Public Employees (CUPE 1600) have reached a tentative agreement with the Toronto Zoo.
The tentative agreement was reached early this morning, following nearly 24 hours of continuous bargaining between the parties, assisted by a provincially-appointed mediator.
Members of CUPE 1600 went on strike on May 11 to defend contract language that assures quality care for the 5,000 animals that call the Zoo home, while enabling the Zoo to continue fulfilling its role as a world-leading research, conservation and educational facility.
Details of the tentative agreement will not be released by the union until members have had an opportunity to review and vote on it.
Accordingly, the union will be making no further comment until a membership meeting and ratification vote have taken place. A special meeting and ratification vote are expected to be held over the weekend.
CUPE 1600 represents more than 400 zookeepers, horticulturalists, trades people, administrative and public relations staff, and concession and ride operators at Canada's largest zoo.