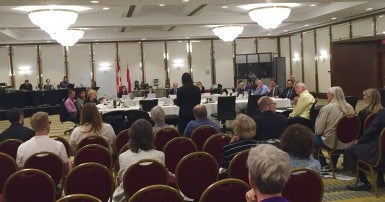 Last Wednesday, constituents from across the Greater Toronto Area came together at the Chelsea Hotel to talk electoral reform. The Special Committee on Electoral Reform, formed of parliamentarians from all political stripes, is traveling the country to study viable alternatives to our current 'winner takes all' first-past-the-post system.  
In the crowd of Canadians eager to see a more democratic Canada was Brynne Sinclair-Waters, a CUPE 1281 member in the post-secondary sector. "The overwhelming majority of presenters supported a move to some kind of proportional system," Sinclair-Waters said. Guided by values of fairness and equality, Sinclair-Waters spoke in favour of Mixed Member Proportional Representation, which would significantly improve citizen engagement and provide more avenues for people's views to be heard in Parliament, while continuing to provide local representation.
"It was clear to me that people are ready for change. Some presenters had never voted for a winning candidate and many did not feel well represented under the current system," said Sinclair-Waters. "Attending was worthwhile and I would encourage all who can to participate in the process."
Click here to learn more about Mixed Member Proportional Representation.
Click here to find an electoral event consultation near you.