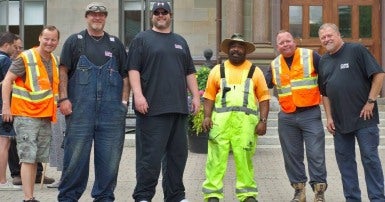 A tentative collective agreement was reached between CUPE 108 Unit 1, outside municipal workers, and Halifax Regional Municipality on Tuesday evening.
The tentative deal was achieved through a lengthy conciliation process and will be voted on by the membership on October 21, 2016. The details of the agreement will be released after it has been through the ratification process.
"Our bargaining committee is recommending the agreement to our members," says CUPE 108 President Mark Cunningham. "On behalf of the Bargaining Committee, I'd like to thank the membership for their support and encouragement over the past few months."
The union will make no further comment until after the ratification vote.
CUPE 108, Halifax Civic Workers, are outside workers employed by the Halifax Regional Municipality. There are over 300 members in Unit 1 including labourers, facility maintainers, gardeners, utility workers, storepersons, traffic sign and marking technicians, painters, building trades persons, fleet trades persons, engine room operators, chief plant operators, and plant operators including arena, rink, and pool.