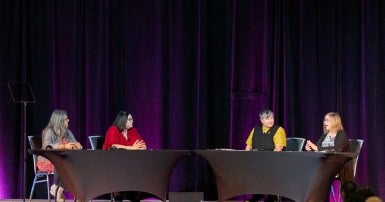 Members of the Safe Union Spaces Working Group took to the stage Tuesday morning to update National Sector Council Conference delegates on the group's progress.
The Safe Union Spaces Working Group was formed by CUPE's National Executive Board (NEB) in March 2021 in response to incidents of serious misconduct. The group is made up of the women members of the NEB. They are working on recommendations that will transform how our union addresses sexual and gender-based violence and other forms of harassment and discrimination in CUPE spaces.
Regional Vice-President (British Columbia and the Yukon) Karen Ranalletta opened the presentation by recognizing the serious impacts of violence, harassment, and discrimination in union spaces. She detailed how a survey, focus groups, and listening groups found that many CUPE members, particularly women and members of equity-seeking groups, do not fully participate in the union because they do not feel safe. "Our union is strongest when we include everyone," argued Ranalletta. "By supporting the work of the Safe Union Spaces Working Group, we are on a meaningful path that will ensure that CUPE is a union for all of us."
Next, Regional Vice-President (Manitoba) Gina McKay discussed why it's so essential to create inclusive unions in the face of right-wing threats like privatization and austerity. "When we aren't connected as CUPE members in our shared communities, when we don't feel a part of the work, our fight back is missing," said McKay. "When we are united, we will be a stronger force in addressing anything a right-wing government puts forward."
Finally, General Vice-President (the Prairies) Judy Henley provided an overview of the working group's current projects, highlighting changes to education courses, the introduction of bystander and anti-oppression training, and ongoing reviews of CUPE's complaint process, trial procedure, and ombudsperson program, among other initiatives.
Henley wrapped up by emphasizing the importance of naming the problem and of taking ownership of efforts to change it, encouraging members to participate in pilot programs rolling out soon. "We need to name the issue," Henley told delegates. "We are calling it out and we are calling you in."