In 2015, we saw another huge boost in CUPE's digital reach and online work. Five thousand more people joined us on Facebook this year, bringing our following to almost 19,000. This increased audience meant we were able to reach an average of 240,000 people a week. More than 40 of our Facebook posts this year were seen by over 10,000 people each, and the most popular story about health care cuts – timed with the March 31 National Day of Action – reached 231,000 people. This translated into the most-read article on cupe.ca with 16,800 page views.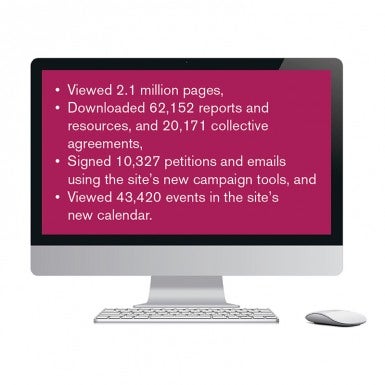 With the help of our members sharing and engaging on social media, visitors to our new website increased by over 55 per cent this year. Our work on the federal election and our national convention also boosted visits. Popular content included our member resources, as well as local information, health and safety, and union education. A growing number of site visitors are using a mobile device (phone or tablet). They represented over a third of all visitors to cupe.ca this year, double the number from 2014.
In 2015, visitors to cupe.ca:
Viewed 2.1 million pages
Downloaded 62,152 reports and resources, and 20,171 collective agreements
Signed 10,327 petitions and emails using the site's new campaign tools
Viewed 43,420 events in the site's new calendar.
After Google searches and Facebook, email remained a consistently strong tool for the distribution of our content. Between subscribers to our daily updates, publication sign-ups, and campaign notifications, email drove over 31,000 visits to hundreds of key stories and sections of cupe.ca. Overall, 2015 was our strongest digital year to date.
We also helped 60 more CUPE locals establish an online presence this year, using websites hosted by CUPE National. These locals join more than 350 locals currently running sites with us, ranging in size from 10 members to thousands of members. In addition to the new sites, work focused this year on improving existing local sites. CUPE launched five new site templates with modernized looks that are optimized for viewing on phones.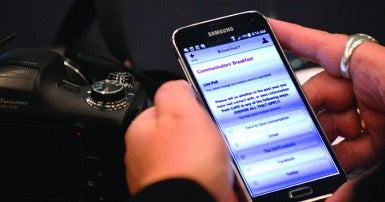 Convention 2015 by the numbers
2,208 registered delegates
11,265 tweets using #cupe2015 and #scfp2015
1,960 subscribers to our first-ever convention app
161,130 pages viewed on the convention app
436,153 people saw CUPE's Facebook content during convention
CUPE's Facebook content got 29,068 likes, shares or comments during convention
42,259 views of the cupe.ca convention page over the year
13,662 downloads of convention-related documents from our website