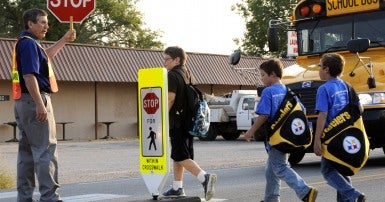 The Canadian Union of Public Employees (CUPE) representing crosswalk guards with the Halifax Regional Municipality (HRM) says conciliation has failed in contract negotiations.
"We have had three days of bargaining and one day of conciliation that failed," says CUPE National Representative Karen MacKenzie. "The main sticking point in negotiations is that the workers have asked for parity of wages with their counterparts in Cape Breton, based on annual salary."
"Crossing guards provide a valuable service to our communities. The employer, HRM, has decided they deserve less than crossing guards in other municipalities and that's unacceptable," says MacKenzie.
CUPE 4814 President Glenna Casavechia says, "The union will be requesting a meeting with Mayor Mike Savage in the near future. This is precarious work and these workers deserve better."
HRM crossing guards are part-time workers with split shifts of 3.5 hours per day and they travel back and forth to their worksite several times each day. In addition, their worksites are increasingly more dangerous with high traffic volumes and the speed of motorists.