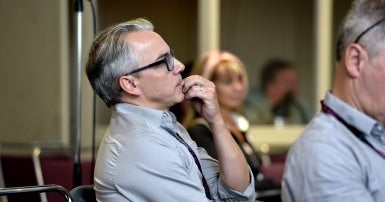 Taxation and regulation of on-demand streaming services such as Netflix was the major focus of discussion at the communications sector meeting on Sunday.
Bypass Internet platforms, which are generally owned by giant American companies, are a threat to Canadian content, productions and broadcasters, the forum was told. Delegates were urged to protest Minister Mélanie Joly's decision to exempt Netflix from having to pay GST or comply with Canadian norms.
Delegates also discussed the possible impact of NAFTA renegotiations on this sector. American negotiators are pushing Canada to reduce protective measures currently in place for the content and ownership of telecommunications companies.
This was the first official meeting of the communications sector on the eve of a national convention. The sector, created in December 2015, includes members from sub-sectors such as media, broadcasting, telecommunications, cinematography and post-production. Members are mostly from Quebec's private sector.