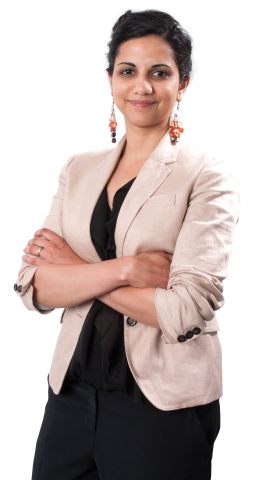 Kevin Wilson | CUPE Communications
Solidarity, like knowledge, knows no borders. Case in point is CUPE 3902's Supriya Syal, whose connections to collective action began in India, and continues to this day at the University of Toronto.
"I came from a sort of a union family, and I've always been excited by the idea of collective action," says Supriya. Now a post-doctoral fellow at U of T, Supriya is the Chair of CUPE 3902's Unit 5, which is now trying to reach its first collective agreement with the university. 
"We're a newly formed unit, and in my role, I represent post-doctoral fellows within the  larger mandate of the local, as well ensuring that members are represented in their dealings with the employer," she says. 
As well, Supriya sits on the unit's bargaining committee, in addition to her post-doctoral research work in the fields of psychology and neuroscience. "The post-doctoral context is a very special niche within the university setting," says Supriya. 
"There has been a fair bit of recent commentary in academia about the postdoctoral experience, how it is lengthening, how we are creating many more PhDs than academic jobs. What does it say about us as a society, that we pay the pittance of an amount we do to people who've earned the highest scholarly degree possible and are devoting their lives to research? I think the fact that the postdocs decided to unionize, was part of this dialogue - part of the idea that a better life has to be possible," she says.
Between her post-doctoral work, trying to negotiate a first contract with U of T and her other duties as Chair of CUPE 3902's postdoctoral unit, there aren't many opportunities for outside interests. Even so, Supriya and her partner do their best to carve out a little time to enjoy the many sights, sounds, smells and tastes that make Toronto one of the most interesting cities to live in.
"It's gotten progressively harder, but we do enjoy spending time at some of the great beaches here" .