Kelti Cameron | CUPE Staff
Graham Cox | CUPE Staff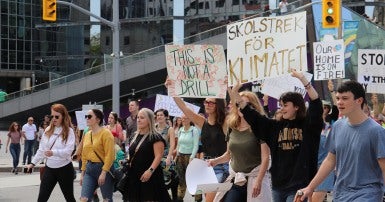 Climate justice is public. It is increasingly evident that governments who continue to follow the lead of the corporate sector and the rules of the current economic system will be unable to address the climate crisis. The younger generations are particularly clear about the urgent need to save the planet, and that an energy transition to low-carbon alternatives and reduced consumption must not rely on corporations or their market-based "solutions".

In the process, the legitimacy of exerting pressure on governments through mass actions and in unity with Indigenous and vulnerable communities in the Global South is growing.  
Anger and disappointment at the failure of governments to address the climate crisis, while fires blaze out of control, and people and ecosystems die because of rising temperatures and preventable natural disasters, are fuelling a whole new generation of leaders from all sectors of society. How can we support them? How can we join them?
Trade Union Program for a Public Low-Carbon Energy Future
Most agree on the problem, less so on the solution. In advance of last year's UN Climate Change Conference (COP26), the Trade Union Program for a Public Low-Carbon Energy Future was launched in Glasgow, Scotland. Led by Trade Unions for Energy Democracy (TUED), this program was an important attempt to rally the international trade union movement behind an ambitious political effort to bring about a fundamental shift in climate and energy policy.
It was, and continues to be, a remarkable effort to concretely outline the shift needed to correct the failures of the market model and to ensure that the energy transition is socially just, economically viable, and effective in terms of reaching climate goals.
TUED, with support from CUPE, are advancing pro-public alternatives that challenge the corporate "green growth" agenda and are organizing on the basis that workers and the global trade union movement are critical to their success. Workers around the world are concerned about the impact of the energy transition on their jobs and livelihood, and rightly so because jobs will be affected.
CUPE's work with TUED has laid the foundation that positions workers not as the victims of the crisis, but as the visionaries who can determine and implement just solutions. Public ownership and democratic control are non-negotiable aspirations.
A Just Transition toward public-sector solutions
As Canada's largest union, CUPE has been responding to the climate crisis for years. As the crisis grows more intense, it is time to strengthen our position and Just Transition policies are a central part of our response. We have a responsibility to set a positive environmental example, and CUPE members can be part of the solution and help contribute to building a more sustainable economy.
Just Transition is a philosophy of change where workers, their families and communities, and the broader economy, don't have to be negatively impacted by massive changes to production and work. While all of humanity is confronted with climate change, not everyone contributes equally to the problem and not everyone is at equal risk.
Pro-public solutions include the recognition that a Just Transition must go beyond job creation that ensures "no one will be left behind". It must also champion public ownership and democratic control over energy, transportation and other essential public services.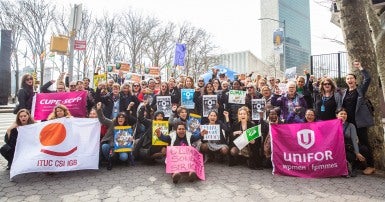 Without public ownership and democratic decision-making, we run the risk of relying on the same corporate sector whose promotion of market-based solutions, and commitment to land grabbing and profits at the expense of the planet is what got us into this mess in the first place.

Their interests are fundamentally different than ours and perpetuate social inequalities. Therefore, we must push back in favour of more sustainable ways of working, sharing the benefits of economic transformation and providing decent work for all.
Workers at the heart of the economic transformation
The transition to a zero-emission economy will take massive investment, but just as importantly, a lot of work. Most work on developing systems and services that are resilient to climate change (outside of energy generation, transmission, distribution, and storage) is provided by front-line workers, many in the broader public sector. Upgrading infrastructure, maintaining building environment control systems, and installation of new energy-saving technology to build sustainable work environments is essential in the fight to bring down emissions.
Retaining skilled trades, maintenance, high tech services, and people-focused support services within public institutions is part of the fight for a sustainable economy. Retaining and recruiting skilled workers is about providing decent wages, safe working conditions, fair and equitable access to training, apprenticeships, and the elimination of precarious employment.
To facilitate a fair and just transition requires us to value the work of those who are making the transition possible.
And we must think highly of not just those who maintain the workplace, but also of those who provide the front-line services to our families while we are at work, train the next generation in schools and universities, transport us to work and leisure activities, and provide the health and welfare services to make sure we can all be involved fully in the positive transformation of our economy to lower emissions.
A lot of money and resources need to be invested in the transition, and they must benefit people equitably or the transition will not happen. This is as true in Canada as it is in other countries around the world.
Climate justice as a global priority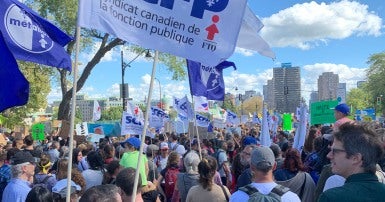 Globally, trade unions, faith groups, Indigenous peoples, farmers, migrant and racial justice networks are organizing for climate justice and represent communities most impacted by climate change.

They are often, but not exclusively, in "developing" countries where rich countries, like Canada, outsource production for low-wage labour – usually using more environmentally destructive processes – or where multinational resource extraction is destroying the land and plundering the mineral wealth.
The fight for public ownership of energy in this context calls for our solidarity with democratic movements in these countries and our active opposition to foreign policy and the imposition of Canadian corporations that accelerate the climate crisis or prevent policies to address it.
Implementing a Just Transition means making sure all workers and communities are not only included in the transition, but play a democratic role in deciding how change will occur and who benefits from the investment. The democratic transition process must include the voices and lived experiences of all peoples. And this inclusive transition will incorporate racial, historical, and Indigenous justice into our planning and implementation of a sustainable economy.
Workplaces are where our efforts toward a sustainable economy materialize. Unionized workplaces are laying the groundwork to bring workers into the conversation on best ways to implement a Just Transition in a fair and equitable way.
If we expand this bottom-up, democratic, and inclusive approach to climate justice to all workplaces, we have a chance to develop, share, and coordinate best practices in all corners of our society.
CUPE's work with Trade Unions for Energy Democracy, global trade unions and social movements aims to expand our network and ensure there is a support system for the new generation of leaders that will demand public ownership as a unifying principle for our future.
Download CUPE's updated National Environmental Policy in response to the deepening climate crisis, and address climate justice issues into your collective agreement language at your next round of bargaining.