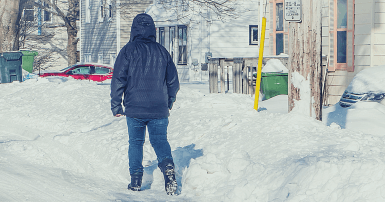 Workers employed by the Halifax Regional Municipality (HRM) are asking the city to bring snow clearing services back in-house to regain control of quality, problems with contractors, costs, and the city's ability to meet accessibility needs.
"HRM council has to decide what is more important: do they put the safety of their citizens first, or do they continue to cater to contractors, who have shown that their work is inferior to the work performed by Local 108 members," says CUPE 108 President Scott Lillington.
"Workers employed by the city were able to get their routes completed and were able to meet service standards, even with sub-par equipment," says Lillington. "The contractors simply don't care about public safety, only their bottom line. There is no acceptable reason why their routes weren't cleared on time during recent snowfalls – or at any other time."
"Clearly, the threat of fines is not working," adds Lillington. "Or the threat of being billed for work done by city-employed workers, because the contractor failed to get the job done."
Other cities have successfully brought snow clearing services back in-house. "Why not Halifax?" asks Todd MacPherson, CUPE national representative. "Port Hawkesbury is a good example."
"Four years ago, they brought their remaining snow clearing services back in-house. The last year the job was done by contractors was 2013 and the snow removal budget was $350,000," says MacPherson. "They brought services back in-house and that amount fell to $216,000 the following year. The city then decided to end the three remaining contracts in 2015," says MacPherson.
CUPE is encouraged by the efforts of Councilor Waye Mason and Councilor Shawn Cleary to bring snow clearing back in-house and to study the issue.
"Halifax would have better quality control over the sidewalk clearing if it were brought back in-house," states Lillington. "However, we're concerned that those efforts could take two or three more years to bring about improvements – if they happen at all."
Photo: Halifax snow by Ross Quinlan is licensed under CC BY-ND 2.0.