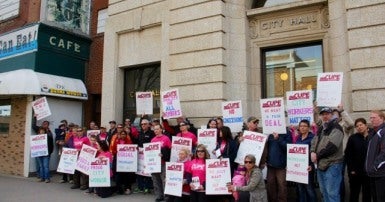 After almost two years at the bargaining table, the City of Moose Jaw and CUPE 9 have ratified a new collective agreement.
"We are relieved to have finally reached a fair and reasonable agreement. It was a long and difficult round of bargaining, and we are hopeful that the relationship between the employer and employees will go more smoothly moving forward," said Stacey Landin, president of CUPE Local 9.
The four-year collective agreement expires on December 31, 2018 and includes wage increases of 2 per cent, 2 per cent, 1.75 per cent, and 1.75 per cent respectively. The deal also sees improvements to language around bereavement leave.
"Our members are proud of the services we provide to the residents of Moose Jaw. We are happy we have reached a collective agreement," Landin added.