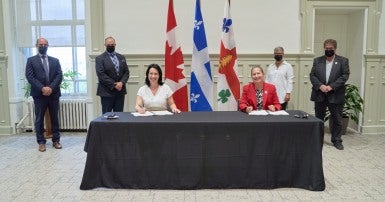 The president of the Syndicat des fonctionnaires municipaux de Montréal (CUPE 429), Francine Bouliane, and the mayor of Montreal, Valérie Plante, signed a collective agreement covering the 10,000 white-collar workers yesterday. They had been without a contract since December 31, 2018.
Last September 7, the membership massively voted in favour (79 per cent) of the tentative agreement, which the City and the union had reached last July.
The seven-year contract calls for wage increases totalling 10 per cent for 2019 to 2023, a hike of no less than 1.5 per cent and no more than 2.15 per cent for 2024 subject to the Consumer Price Index (CPI) for Montreal. In 2025, the final increase will be at least 1.5 per cent and no more than 2.5 per cent based on the CPI for Montreal.
Other improvements to the collective agreement include a minimum wage of $15 for all white-collar workers, the creation of a COVID-19 leave bank of 35 hours to take effect on May 1, 2022 until December 31, 2024 and an increased contribution from the employer to the insurance fund.
A new computerized pay system was also negotiated, which includes a review of increments for all employees on January 1 each year.
"A total of 54 meetings, including 15 mediation sessions, were needed to reach this agreement. Negotiations took place in an atmosphere of mutual respect, and today, Montrealers can rely on the white-collar workers to continue providing quality services," said Bouliane.
CUPE 429 represents close to 10,000 municipal and paramunicipal white-collar workers who work in the City of Montreal and in eleven reconstituted municipalities on Montreal Island and with paramunicipal agencies and organizations. CUPE 429 is the largest union in the municipal sector in Quebec.