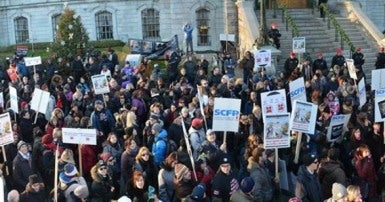 Starting today, 8,000 City of Montreal municipal white-collar workers will be on a rotating strike for 36 days, from January 25 to February 29. All services, offices and boroughs of the city will be affected. This wave will culminate in a general strike day on March 1, the deadline for the payment of municipal taxes.
"Denis Coderre and City Manager Alain Marcoux are mocking the workers who serve Montrealers. In so doing, they are mocking the taxpayers who tasked them with negotiating with these workers in good faith. The white-collar workers have been without a contract for four years. "This is shameful for a big city," said Alain Fugère, president of the City of Montreal white collar union. "But the bottom line is that Denis Coderre is solely responsible for a major labour dispute at the City of Montreal. He has refused to engage in serious, productive discussions with the union. So now we are on the eve of this major dispute."
To learn when specific services will be affected, consult the detailed timetable for the rotating strike (in French only).
In addition to the rotating strikes, the white collars will not work overtime during this period. However, they will provide all essential services prescribed by law.
"It is more than time for the city to show some respect for its employees and to drop its excessive demands, aimed at impoverishing its workers on the one hand and privatizing services on the other," said the union president. The city wants to eliminate all checks on subcontracting and to reduce the total remuneration of white-collar workers by 12 to 14 percent.
Since January 15, the parties have been meeting with a conciliator appointed by the Ministère du travail de l'emploi et solidarité social (MTEYSS) in an attempt to resolve the impasse in the negotiations.
  

Approximately 5000 City of Montréal white-collars demonstrated against Mayor Denis Coderre's administration during a half-day strike. Photo Michel Chartrand