Karin Jordan | CUPE Communications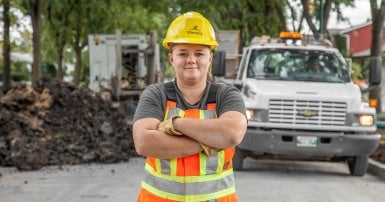 Faced with rising costs and declining quality of contracted out services, cities in Canada and around the world are taking back control of their public services.
The growing trend is documented in the new Columbia Institute report Back in House: Why local governments are bringing services home. The report reviews Canadian and international evidence about contracting out and the reasons to contract in. It also revisits pro-privatization reports dating back two decades to find that many privatization poster projects are now back in house.
Back in House tells the story of 15 Canadian communities that have ended privatization. In many cases, the services are now being delivered in-house by CUPE members. The number one reason municipalities brought work back in house was to save money, followed by problems with the contractor, poor-quality service, and the need for more flexibility.
In some of these communities, local governments saw they could do the work themselves because of increased in-house capacity. Many communities took the opportunity of a contract expiring to end privatization.
Contracting in was a major theme in the municipal meeting at CUPE's recent National Sector Council Conference. Members shared their successes and setbacks, including CUPE 3034 president Terri-Lynn Cooper who described the patient, 20-year campaign her local waged to win back solid waste services in the Town of Conception Bay South, Newfoundland and Labrador.
The local built its case over time, tracking complaints and documenting when in-house staff cleaned up after the contractor. The first step was contracting in door-to-door pickup of bulky garbage.
That foot in the door helped the local showcase superior in-house service. Cooper and other local leaders worked to build support with CUPE 3034 members, including mechanics who were initially reluctant to service what they saw as dirty garbage trucks.
A spike in complaints and rising contractor costs helped strengthen the local's case as they developed a fully-costed proposal for an in-house fleet and public service delivery. In 2011, council voted to bring solid waste services in house for a five-year trial.
Cooper says savings since in-house service began, are approaching $1 million. At the same time, the workers have improved wages and benefits, and far better health and safety protection than the contractor provided. "It's a win-win for everyone," says Cooper, who announced that the trial is over and the services will be staying in house.
CUPE funded Back in House to help our members and municipal officials promote and protect public services. Read the report and order copies at cupe.ca/back-in-house