Charlie Brenchley | CUPE Communications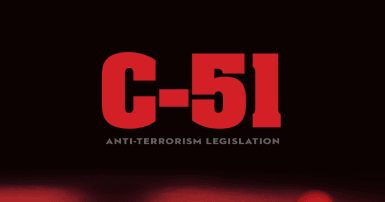 In June 2015, the Conservative government, supported by the Liberals under Justin Trudeau, passed the draconian Anti-Terrorism Act commonly known as Bill C-51. It handed sweeping new powers to Canada's spy and security agencies. For example, the legislation broadened the definition of "security" in such a way that could criminalize peaceful protests.
Not surprisingly, the backlash against Bill C-51 from coast to coast was massive, a clear sign that Canadians remain concerned about their civil liberties, proudly enshrined in our Charter of Rights and Freedoms. The Liberals took note and did a total about-face during the 2015 election promising to repeal the bill's "problematic elements" and introduce legislation that would strengthen Parliament's oversight.
Fast forward 15 months and the same unmodified Bill C-51 remains in place. One can only assume that spy and law enforcement agencies are making use of their enhanced powers. The government has introduced legislation that would establish a new security and intelligence committee composed of parliamentarians. On the surface, this would appear to be a good first step in enhancing oversight but the details paint a different picture. The committee would report to the prime minister rather than to parliament and cabinet ministers can block any investigation into an issue or activity related to their department.
Unbeknownst to most Canadians, this past fall Public Safety minister Ralph Goodale held online consultations on national security. Privacy and civil liberties experts are concerned that the consultations are heavily tilted towards giving surveillance agencies more – not less – power to spy on Canadians. Big changes will likely be announced in early 2017 but they may not be what Canadians have been waiting for.