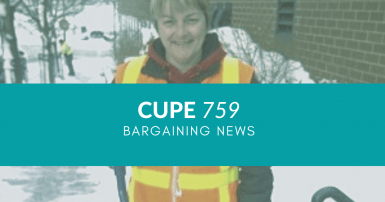 Municipal workers with Cape Breton Regional Municipality (CBRM), represented by CUPE 759, reached a tentative agreement with their employer yesterday.
"I'd like to thank our bargaining committee who worked hard on behalf of our members to reach this deal," said Kevin Ivey, president of CUPE 759. "We are pleased to recommend this tentative agreement to members for acceptance."
Details of the contract will not be made available until it has been presented to CUPE 759 members, and both sides have ratified the agreement. The union's bargaining committee will present the tentative collective agreement to the membership and a ratification vote will take place on Sunday, November 28, 2021.
CUPE 759 represents approximately 300 members employed by CBRM who work in transit, public works, water and waste water management, parks and grounds maintenance, building and arena maintenance, as well as cleaning and janitorial services.