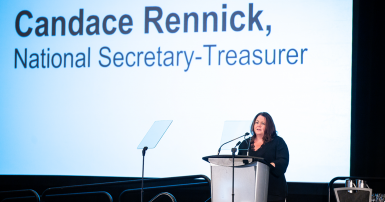 National Secretary-Treasurer Candace Rennick addressed CUPE's All Committees Meeting Tuesday morning, urging activists to mobilize against a wave of anti-worker policies sweeping the country.
Rennick drew attention to the challenges being faced by 55,000 CUPE school board workers in Ontario as Premier Doug Ford attempts to legislate a contract and prevent them from striking.
"Ontario's Ford government has done everything it can to undermine the bargaining process and resist the rightful demands of our union, but we keep getting stronger, we keep pressing forward, and we will not stop," said Rennick. "No government, no employer can hold us back."
Rennick also highlighted other instances of worker resistance across the country, including CUPE members locked out at the Port of Quebec, and striking CUPE members at Dalhousie University in Halifax and Quebec's cannabis stores.
Workers facing skyrocketing inflation, government cuts, wage restraints, and the looming threat of recession need to band together more than ever, argued Rennick.
"The economic policies being pursued by the Bank of Canada and most governments in Canada are not new," explained Rennick. "We must put our minds to how we are going to organize and mobilize effectively for our alternatives, and against the old, failed austerity doctrine of the Right."
According to Rennick, mobilization can only be effective if it's inclusive. She pointed to the ongoing efforts of the Safe Union Spaces Working Group to address sexual and gender-based violence and other forms of harassment and discrimination in CUPE. The working group's goal is to create a union in which everyone feels safe to participate.
"Making our union safe for all is a collective responsibility, an ongoing responsibility, and one that won't have an end point," said Rennick. "It is a continuing struggle, like all working-class struggles. And like all struggles, it is a complex, difficult struggle, but one that will make us stronger."

Rennick concluded her address by looking to the future.
"Union work is never easy," said Rennick. "But we have everything it takes to make big gains.  And I am incredibly optimistic.  Because our members are bold and brave and resilient."