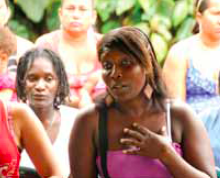 CUPE represents members in several NGOs in the international development sector in Canada and knows firsthand the commitment of these organizations to support poverty alleviation, human rights and equality in the global south. We have witnessed over the past few years how funding cuts to Canada's foreign aid programs have limited and undermined their ability to support economic and social justice in poorer countries.
Development aid has the potential to mitigate the worst impact of our global economic system and to support communities to take action to alleviate the poverty they experience.
The Conservative government vision for development aid, however, undermines this potential by signaling international aid should support the economic interests of our corporate sector.
Bold moves that signaled changes in the role of the Canadian government and foreign aid began with huge funding cuts in 2012 to the
Canadian International Development Agency (CIDA). Later that same year, a report was tabled on the role of the private sector in achieving Canada's international development mandate, and in the 2013 federal budget it was announced that CIDA will be merged within the Department of Foreign Affairs and International Trade (DFAIT).
These changes, coupled with the shift away from peacekeeping toward more military interventions and our inaction on the environment, have given rise to global condemnation.
Our government continues to promote Canadian extractive industries (oil, gas, mining) in countries with serious human and labour rights violations. In 2011, for example, we signed a free trade agreement with Colombia despite the growing evidence of violations against workers and communities throughout the country.
Canada's foreign aid is now unquestionably promoting the economic trade interests of Canada and geared toward a business model that does not take into account the need for decent work, environmental protection and the importance of human rights. Establishing a foreign policy that promotes fair trade relations, self-determination and a more equitable distribution of a country's resources, including agricultural and industrial capacity, is what is needed for genuine and sustainable development, job creation and poverty alleviation.
CUPE supports the work of coalitions such as the Canadian Council for International Cooperation (CCIC) and Common Frontiers, and is active with many NGOs and the international solidarity community to challenge the regressive, harmful policies of the Conservative government. It is critical for union members to support these efforts to promote a progressive international development agenda.