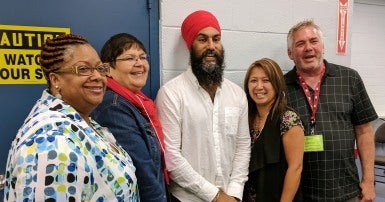 CUPE is a founding partner of the NDP. We are proud to be New Democrats.
Working closely with our party has given CUPE members from coast to coast to coast a strong voice in Canadian politics. Together, CUPE and the NDP can achieve positive change for our members and all Canadians.
CUPE encourages all members to join and be active in the NDP. As a member, you can participate in riding associations, help shape NDP policy, and run for office as a New Democrat.
Together, labour and the NDP get results for working people: safer workplaces, a fair economy, decent wages and pensions and strong social programs that make life better for all of us. 
New Democratic Party of Canada:

Follow NDP Leader Jagmeet Singh: