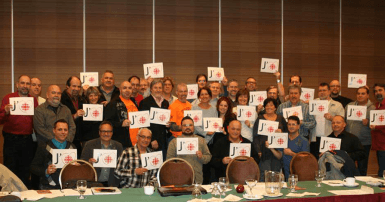 Every single one of the supporters of the "I love CBC" campaign helped make yesterday's announcement by the Trudeau government that it will invest 675 million dollars in our public broadcaster up to the year 2021 possible. A big thank-you goes out to all for your support and your fight for the "I love CBC" campaign, looking to improve funding for our public broadcaster!
However, for all that the battle to safeguard the CBC is not over. The text of the budget in fact anticipates that: "reversing past cuts will enable the CBC/Radio-Canada to invest in its Strategy 2020: A space for us all priorities, leading to the creation of Canadian content which will be more digital, local and ambitious in scope."
While these objectives are commendable, we must not forget that this strategy prepared by the CBC's conservative board will have grave consequences. It envisages in particular the sale of all of the crown corporation's buildings – among them La Maison de Radio-Canada in Montreal – and the abandoning of in-house production of television programming, in order instead to entrust it to outsourcing. This means that hundreds if not thousands of quality jobs are at stake, in spite of the budget increase. However there will need to be staff to carry out the technological transition toward more digital services while not leaving behind radio and television – which continue to enjoy listeners and viewers.
In short: the public broadcaster now has more money, but we need to continue the fight for the CBC to reflect and serve all Canadians.