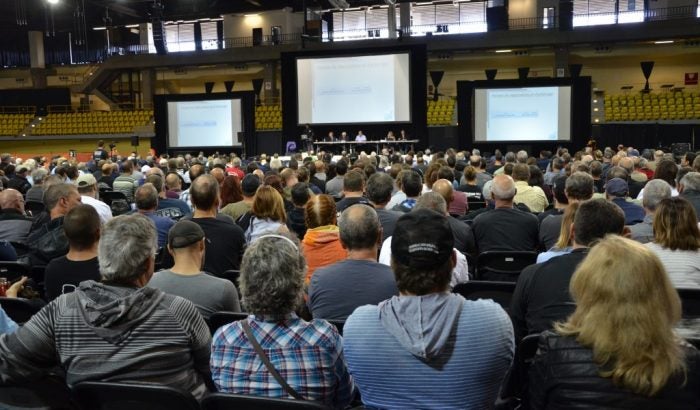 Blue collar workers in Montréal voted 97% in favour of their pension plan agreement this morning at a special meeting held at the complexe sportif Claude-Robillard. CUPE 301, Montréal's blue collar workers' union, reached the agreement with the City of Montréal this past July following intense negotiations.
"Bill 15 imposes a much tighter framework that restricts us in negotiating multiple aspects of pension plan restructuring," explained Frantz Élie, CUPE 301 representative responsible for pension plans. "Despite a difficult environment that leaves no room for real negotiation, we managed to secure the pension plan for our 6,500 blue collar members."
CUPE is vigorously pursuing legal challenges against Bill 15 at the same time in an effort to have it declared unconstitutional. The labour organization's objectives include getting the court to restore benefits indexation for pensioners and active participants, and to invalidate the sharing of past deficits and any other measures already invoked that limit the right to free negotiation.
The agreement ratified this morning is part of CUPE 301's ongoing efforts to protect its workers' pension plan. In 2012, long before the adoption of Bill 15, CUPE 301 was one of the first unions to negotiate an accountability agreement for pension plans. In addition to introducing a stabilization fund, this agreement took into consideration demographic issues and the importance of ensuring sustainability and stable funding of the pension plan as well as showing concern for everyone's ability to pay.
"Despite our good faith efforts, Bill 15 imposed restructuring," stated Mr. Élie. "At the time, observers across the board had welcomed this innovative rule negotiated without duress and without special legislation. We did not need this legislation because we have shown that bargaining works, and we hope that the City will get this message when the second round of bargaining comes up."
With nearly 115,000 members, CUPE-Quebec represents approximately 70 per cent of all municipal employees in Quebec, or 32,240 members. CUPE is also active across a broad range of sectors, including health and social services, communications, education, universities, energy, government corporations and public agencies, air and ground transportation, the mixed sector and the maritime sector.