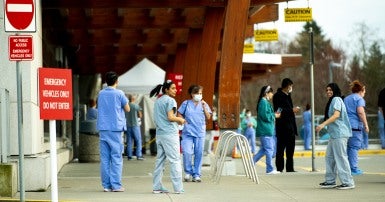 Hospital staff are feeling demoralized, battle fatigued and burnt out following more than two years of pandemic-related workloads. But a new poll released today, shows that even though most hospital nurses, clerical staff, cleaners, paramedical and maintenance staff feel the Doug Ford PC government has turned its back on them by cutting their real wages and intensifying staff shortages, public support for them and their pandemic efforts is stronger than ever.
Conducted by Nanos Research February 2022 – just as Ontario was about to hit the official two-year mark of the COVID-19 pandemic – the poll surveyed the public on issues specific to hospital staffing and the workforce. It was commissioned by CUPE which in Ontario represents about 50,000 hospital workers and 90,000 health care staff overall in all health system settings.
Overwhelmingly, poll respondents want the province to stabilize hospital staffing by making more of the jobs full-time, increasing wages to retain staff and to help attract the more than 50,000 health care workers needed because of attrition in the next few years to provide care to a growing and aging population.
There is remarkable public support to scrap a PC 1 per cent wage cap (Bill 124) that has "become symbolic to the predominantly female health care workforce of the government's profound disrespect for them," says Michael Hurley, president of CUPE's Ontario Council of Hospital Unions (OCHU-CUPE).
Ontarians know hospital staff really tried to help get them through the worst public health crisis since polio, often at great personal sacrifice, Hurley adds. "They think it's unfair that hospital staff will take a 10 per cent cut to real wages in 2021 and 2022 and that these workers still often cannot get access to personal protective equipment to work safely or bargain mental health supports. The Ford government praises this workforce lavishly but is ideologically firm about cutting its salaries in real terms- it's passive aggressive and it's at serious odds with public opinion."
Highlights from the Toronto/GTA poll with over 1000 respondents include:
81 per cent support or somewhat support scrapping the Ontario Government's 1 per cent wage cap so that hospital workers can get a pay increase that at least matches inflation.
82.2 per cent support or somewhat support increasing the pay of all hospital workers above the rate of inflation.
More than 89.3 per cent support or somewhat support investing in measures to better protect the safety of hospital workers against getting the COVID-19 virus in the workplace.
90.1 per cent support or somewhat support increasing the number of hospital front-line staff like nurses, personal support workers, cleaners, ward clerks and dietary staff.
86.6 per cent support or somewhat support moving more workers in hospitals from part-time to full-time jobs.
89.5 per cent support or somewhat support increasing access to mental health supports and programs for hospital workers to help them deal with pandemic trauma.
60.5 per cent oppose or somewhat oppose hiring nurses from a private agency/company on contract and paying them double what nurses on the government payroll get paid for the exact same work.
Nanos conducted an online representative non-probability survey of 2,553 Ontarians, 18 years of age or older, drawn from a panel, between February 4th and February 8th, 2022. The results were statistically checked and weighted by age and gender using the latest Census information and the sample is geographically stratified to be representative of the residents of Ontario.