Daniel Gawthrop | CUPE Staff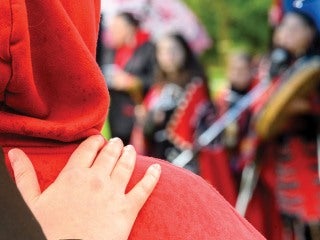 According to the most recent RCMP report, 1,017 women and girls identified as Indigenous were murdered between 1980 and 2012 — a homicide rate roughly 4.5 times higher than that of all other women in Canada — and at least 105 Indigenous women and girls remained missing. These numbers, however, don't take into account the past 10 years, nor underreporting, discrimination and ineffective data keeping that have been denounced by Indigenous advocates.
Every year, on May 5, red dresses become a symbol of the crisis and are hung outside of homes, from trees or statues. On Red Dress Day, also known as the National Day of Awareness for Missing and Murdered Indigenous Women, Girls and Two-Spirit People, CUPE members, allies and families across the country mobilize to bring awareness, to honour the memory of loved ones and to demand action.
On the late afternoon of May 5, 2022, about 125 people gathered on the rain-drenched grounds of Bear Creek Park in Surrey, B.C. — the unceded and shared territory of the Katzie, Kwantlen, and Semiahoo First Peoples. The crowd was there for a Red Dress event marking the National Day of Awareness for Missing and Murdered Indigenous Women, Girls and Two-Spirit People.
Hosted by CUPE 728 with guidance from the Hospital Employees' Union (HEU), the gathering took place within a grove of trees on which red dresses and ribbons representing lost loved ones had been hung, the rain falling like tears on laminated portraits bearing the photo, name, and story of many. 
Along with speeches by CUPE's National Diversity Vice-President Debra Merrier, CUPE BC Diversity Vice-President Shelley Saje Ricci and HEU's Louella Vincent, the event featured powerful statements by seven witnesses called upon to share their personal reflections. Food and refreshments were served and music by Stars of the North, a family drumming group, closed the event by leading a circle of attendees in a collective rendition of the Women's Warrior Song.
The fourth gathering of its kind held at Surrey's Bear Creek Park — the others were organized by HEU's Vincent during the month of October — this Red Dress event was the first hosted by CUPE 728 representing Surrey school support workers.
Saje Ricci, a speaker at the first gathering, 
recently recalled her local's response after several members of its women's committee attended.
"We realized at that point that we could be more involved because it was held on the territory where we worked, so the women's committee were invited and volunteered," Saje Ricci said. She added that the local, with guidance from Vincent, eventually struck its own Red Dress Day committee, which prepared a project plan and solicited donations from other CUPE locals and other unions. As well as the HEU, contributors included MoveUp and the New Westminster District Labour Council.
NDP leader Jagmeet Singh, the MP for Burnaby South, could not attend but sent a video highlighting the importance to "commit to justice" on this day in the ways called for by the Final Report of the National Inquiry into Missing and Murdered Indigenous Women and Girls.
"We know this event had an impact because we had over a hundred people show up in the pouring rain," Saje Ricci pointed out. "We purposely and strategically invited the men to our event, male leaders, because we wanted them to stand in solidarity with us for what was happening to our women."
The presence of union leaders who are men, like CUPE BC Secretary-Treasurer Trevor Davies and MoveUp President David Black, was important, noted Saje Ricci, recalling that some unions withdrew support for Red Dress events because of last year's controversy surrounding statues of white colonial figures that had been toppled.
Merrier said she would like to see this kind of event from coast to coast.
"It is about education," she added. "Not everybody has knowledge about the missing and murdered Indigenous women and girls, and Two-Spirit people. And there are still barriers to that knowledge. We're still not getting the acknowledgement. We look on social media and every day somebody is going missing, and nothing is being done. It is about truth and reconciliation. Let's stop talking and let's see the action."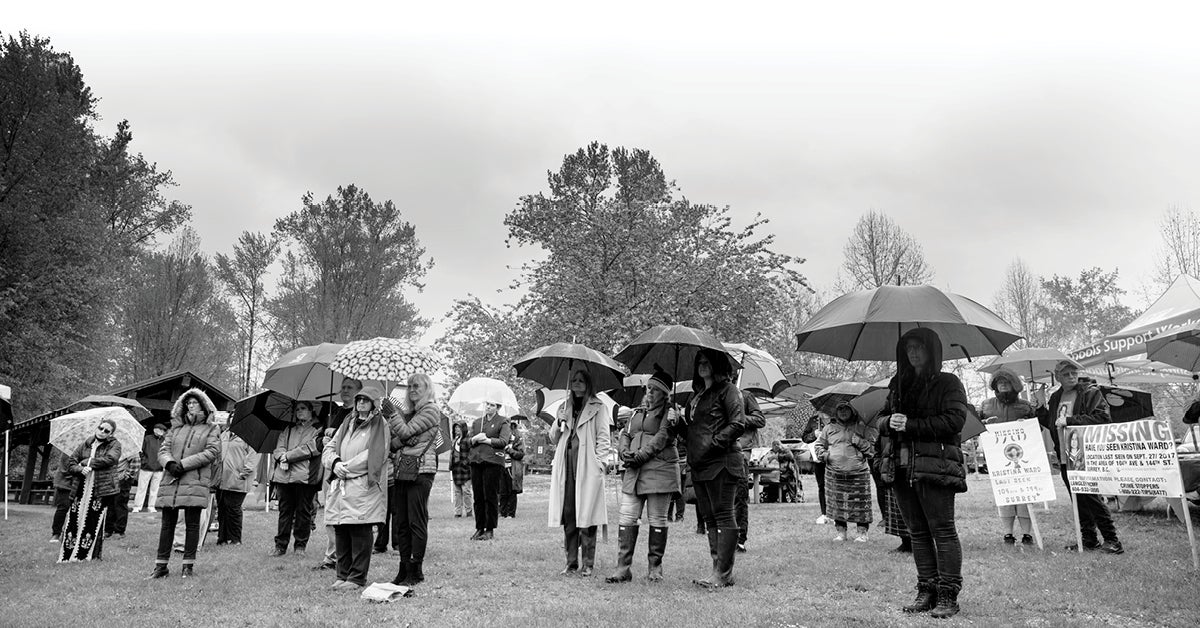 Merrier and Saje Ricci agree that more support and advocacy of this and other Indigenous issues should come from allies and not only from the Indigenous people who live these experiences every day. However, they also agree that CUPE and the labour movement as a whole need more Indigenous members taking leadership roles.
"Who is going to step up to continue doing this work when Shelley and I are not there? We need more Indigenous leadership," said Merrier.
Saje Ricci remarks she has been talking about missing and murdered Indigenous women and girls for eight years, and nothing has changed. "Our women are still 12 times more likely to go missing or be murdered than any other cultural group of women in Canada. And why is that? Why are our women considered disposable?" she asks.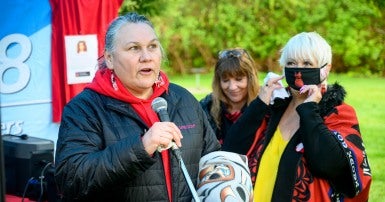 According to Merrier, what is needed is not only new policies but action by politicians who listen, and who actually read reports such as Red Women Rising and the final report of the National Inquiry.
"For me, it is so personal," said Debra Merrier, "because of my aunt who never returned, and my sister who was murdered."
We are outraged the federal government hasn't acted on the 231 calls for justice in the Final Report of the National Inquiry into Missing and Murdered Indigenous Women and Girls. This May 5, you too can demand accountability and action in solidarity with community members who have organized tirelessly for decades to end the violence. Mark the day by planning a Red Dress event in your local or join a vigil in your community.
The National Day of Awareness for Missing and Murdered Indigenous Women, Girls, and Two-Spirit People is not the only time of the year to raise awareness. We must take action every day to put an end to this genocide, hold governments to account, support the work of organizations such as the Native Women's Association of Canada, and show our commitment to reconciliation.