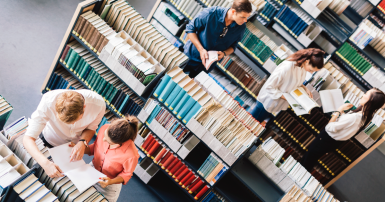 B.C.'s Prince George Public Library workers voted overwhelmingly to ratify their first collective agreement in a vote that concluded on November 9. The CUPE 4951-04 bargaining committee had met with the employer for six intense days of bargaining that concluded on October 29. The Library Board has also ratified the new contract.
As well as providing job security for the workers at Prince George Public Library, CUPE 4951-04 Unit Chair Darcie Smith believes that the contract will improve communication and foster a better relationship with the employer.
"This is a huge step that will hopefully improve our relationship with management because they can see that we do respect their policies, and this collective agreement ensures that the terms will be fairly applied," said Smith.
The collective agreement provides for increased benefits and wages, locks in protective policies that were previously procedures, and improves overall language.
"It was really excellent that the bargaining committee was able to achieve a solid first contract with good increases," said CUPE 4951 President Lily Bachand.
Bachand is pleased that Prince George Public Library workers joined CUPE 4951. The 50 workers voted to join CUPE in April, following a major restructure at the library.
CUPE 4951 also represents members at the College of New Caledonia library and the library in Fort St. James. "Coming on board is a huge benefit for all our members who work in public libraries," said Bachand. "They have the added benefit of supporting each other."
CUPE 4951's newest members include pages, collections librarians, cataloguers, technical services clerks, librarians, library assistants and circulation staff. They work in two branches that serve Prince George residents and others in the surrounding area.