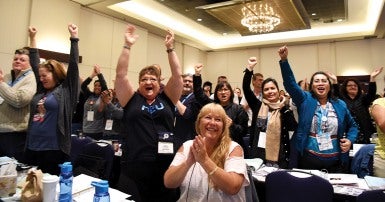 A 16-year-long battle by the Hospital Employees' Union to restore justice for its members has ended in victory. 
Last November, the province's NDP government repealed discriminatory legislation (Bills 29 and 94) brought in by the former Liberal government. Those laws stripped health care workers' collective agreements of critical job security provisions, excluded them from the full protection of provincial labour laws, and facilitated privatization in hospitals and long-term care homes.
The NDP's Health Sector Statutes Repeal Act was introduced into the B.C. Legislature during HEU's biennial convention in November. Delegates and guests watched by livestream and, within minutes, erupted into thunderous applause. Following the announcement, convention delegates lined up at the mics to talk about how their lives had been impacted by the Liberal's anti-worker laws.
As a result of Bill 29, thousands of health care workers—mostly women—were fired as health authorities contracted out hospital cleaning, food services, laundry and other support services. And Bill 94 facilitated the layoff of thousands more, by nursing home operators who subcontracted care and support staff to keep wages low and bust union collective agreements.
In 2007, the Supreme Court of Canada ruled provisions of Bill 29, including those that nullified job security protections against contracting out, were unconstitutional. In doing so, it established collective bargaining as a charter-protected right for all workers.
However, both laws continued to exclude health care workers from key provisions of the B.C. Labour Relations Code, including successor rights and common employer declarations.
The repealing legislation will be implemented early in the year through regulation after consultation with sector stakeholders.
When it comes into force, health workers will regain access to successorship protections under the Code, which ensure workers don't lose their collective agreement or union membership when a business is sold or transferred from one owner to another.
The union also anticipates the NDP will introduce legislation this spring that may include an expansion of successorship to cover instances where "contract flips" take place in health care and some other settings.
And as Counterpoint goes to press, HEU members are voting on a tentative agreement that includes guidelines and a process by which government and/or employers will look at the potential of returning contracted-out services to the direct control of health authorities.