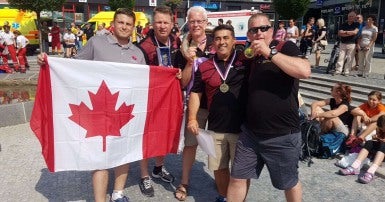 CUPE 873 ambulance paramedics representing Team Canada BC won gold at this year's Rallye Rejviz International Paramedic Competition, held in the Czech Republic.
For team members Alex Mattes, Ron Van Houten, Stu Myers and Gene Benoit, practice and hard work paid off as the quartet placed first in 11 challenging tests, well ahead of the second place finisher, on May 26.
Mattes and Myers are from Nanaimo while Van Houten hails from Richmond and Benoit from Vancouver.
In an interview with Nanaimo News Now, Mattes described the competition as a good opportunity to show off the great care that patients in B.C. receive at the scene of an injury or en route to a hospital—but also a learning opportunity for ambulance paramedics.
"A lot of paramedics who come here say it's changed their practice and how they do things," he said. "You're seeing all these different methods of doing the same type of job, which is so cool to see."