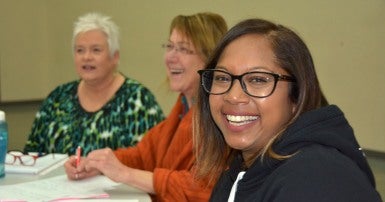 Provincial bargaining dates have been set and the K-12 Provincial Bargaining Committee (PBC) is prepared to start bargaining.
CUPE locals are participating in training sessions set up in their respective regions to get ready for these negotiations. Visit the CUPE BC gallery to view photos.
The K-12 Provincial Bargaining Committee (PBC) met on May 22 and 23 in Burnaby to review survey results and develop proposals incorporating members' issues and concerns raised through the provincial bargaining survey. One in four members from throughout B.C. participated in the survey that provided valuable input.
"The PBC is a group of dedicated members that collectively have many years of knowledge and experience," said K-12 PBC President Warren Williams. "They will undoubtedly serve the members of our sector well as we continue to prepare for and begin provincial bargaining."
The provincial bargaining committee was elected from all regions of B.C. and will meet with representatives of BCPSEA (British Columbia Public School Employers' Association) to develop bargaining protocols.
Williams said that the PBC remains dedicated to achieving the best possible agreement for the K-12 Presidents Council and all K-12 support staff. The current contract for K-12 support workers expires in June 2019.  
For more information including a list of PBC members, please visit our updated website at bcschools.cupe.ca.