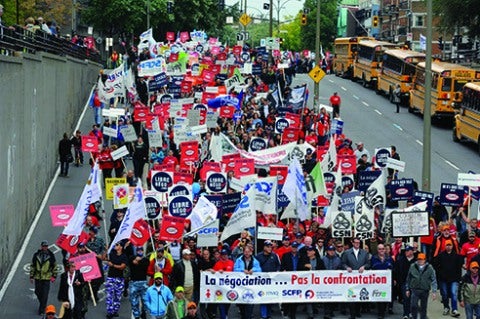 Lisa Djevahirdjian | CUPE Communications
Tens of thousands take to the streets in Montreal 
Quebec has not seen a demonstration of this size since the massive student protests of 2012 known as the Maple Spring. On a sunny Saturday in September more than 35,000 people took to the streets of downtown Montreal to protest the Liberal government's Bill 3. They were protesting the legislation because it includes measures that would open signed collec­tive agreements and push seniors into poverty.
The event was orga­nized by the Coalition syndicale pour la libre négociation [Labour coalition for free collective bargaining]. The coalition represents most unionized municipal employees in Quebec, including white and blue collar workers, police officers, firefighters, professionals and public transportation employees. 
"We are saying once again, to a government that refuses to listen, that we want to negotiate to find solutions," said Marc Ranger, coalition spokesperson and assistant director of CUPE-Quebec. 
"For three years now we have been pushed to our limits time and again in an effort to identify workable solutions for our various pension plans without compromising the agreements in place."
"Bill 3 breaks contracts and agreements that were negotiated in good faith, it will make our retirees poorer and it is shaking the confidence of Quebecers," said Denis Bolduc, secretary general of CUPE-Quebec. "The government is proceeding with this legislation despite not knowing the exact nature of the deficit." 
The coalition notes that municipal pension plans are in good financial health overall, and wherever difficulties may persist the unions are willing to continue the process already underway to negotiate cost-control measures. 
The Couillard government appears to want to move quickly on Bill 3, but it has not heard the last of the coalition on this issue.
"The coalition is planning additional actions to assert our fundamental rights," said Ranger. "The government claims that it wants to establish social dialogue but in reality it is avoiding all attempts to negotiate. We are in mobili­zation mode," he said.
Photo: Michel Chartrand
Some of the more than 35,000 people who protested a Liberal government bill that would re-open signed contracts.