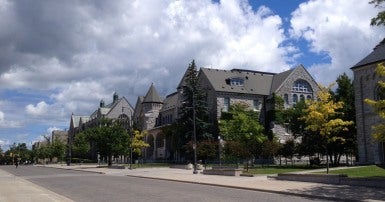 CUPE and Aramark Canada, contractor for food and hospitality services at Queen's University, have reached a tentative agreement for workers at the university's Donald Gordon Hotel and Conference Centre.
Negotiators for CUPE 229, which represents workers at the centre, and for Aramark reached the deal following a full day of bargaining on August 17. Negotiations took place over the past several months and resulted in yesterday's agreement.
"Under the agreed terms, we can't make details of the agreement public until after our members have had the chance to review and vote on it, and that won't happen until the end of the month," explained Sherri Ferris, president of CUPE 229, who led negotiations for the group. "However, I can say that this is a deal that the bargaining committee will be pleased to recommend for ratification by members."
Aramark representatives express similar sentiments: "Under this agreement, Aramark's food and hospitality employees at the Donald Gordon Centre will continue to deliver the same high-quality services to the centre's guests and clients," said Jinty Cresswell, general manager at the Donald Gordon Centre.
On August 30, members of CUPE 229 will review the proposed tentative agreement and vote on whether to accept or reject the deal. Until members have had an opportunity to review the proposed settlement, neither the union nor Aramark will provide further comment.